THE CANADIAN COUNTRY MUSIC ASSOCIATION® TO INDUCT BRIAN EDWARDS AND JASON MCCOY INTO THE CANADIAN COUNTRY MUSIC HALL OF FAME®
EDWARDS AND MCCOY TO BE HONOURED IN SPECIAL INDUCTION CEREMONY, TAKING PLACE DURING COUNTRY MUSIC WEEK 2023, SEPTEMBER 14-16 IN HAMILTON, ON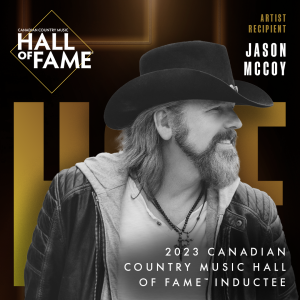 Toronto, ON (July 18, 2023) — Today the Canadian Country Music Association® (CCMA®) is thrilled to announce Brian Edwards (Stan Klees Builder) and Jason McCoy (Artist) as the 2023 Canadian Country Music Hall Of Fame® inductees. Both Edwards and McCoy will be honoured and celebrated in an exclusive induction ceremony during 2023 Country Music Week, taking place in Hamilton, ON, September 14–16.
"It's truly a privilege to be able to celebrate the incredible achievements and careers of those in the Canadian Country music community, and the addition of Brian and Jason to the Canadian Country Music Hall Of Fame is no exception," says Amy Jeninga, CCMA President. "The opportunity to highlight their accomplishments during this year's Country Music Week celebrations is sure to be a special and memorable moment, and one that I'm very much looking forward to."
With a career spanning over 40 years, Brian Edwards started his journey in the music industry in his teens when he became, at that time, the youngest talent agent in North America to be licensed by the Federation of Musicians Union. Together his father Rae, a local square dance caller, and "Sunshine" Sean Eyre, a country music DJ in Peterborough, taught Edwards the ins and outs of the industry, and he started his company, former CCMA Booking Agency of the Year  Rockland Entertainment Inc., just after high school. Edwards has gone on to represent some of the most notable names in Canadian Country Music, including an over 25 year relationship with Stompin' Tom Connors and over four decades with Tommy Hunter, plus Red Green, The Leahy Family, Rita MacNeil, Charley Pride and more. His lessons in the business continued under the mentorship of CCMA Hall of Fame inductees Ron Sparling and Paul Mascioli, and to date, Edwards has promoted over 5000 shows across Canada, the United States, and Australia. He continues to pay it forward by offering yearly scholarships at both Peterborough's Kenner High School and the Wolfville Nova Scotia High School, in memory of Wilf Carter.
"I'm overjoyed and endlessly grateful for the opportunity to be inducted into the Canadian Country Music Hall of Fame," shares Edwards.  "The music business has been my life; I started in this industry before leaving high school and have been working in it ever since.  Being recognized amongst so many of the Legends of Canadian Country Music that I've had the pleasure of working with over the course of my career really brings it all home. Thank you CCMA, this means the world to me."
A 25 year veteran of the entertainment industry and two time CCMA Male Vocalist of the Year, Jason McCoy grew up in the small town of Minesing Ontario, admiring the well-rounded artistry of classic entertainers Roger Miller, Johnny Cash and Glen Campbell. At the age of 19 McCoy set out to follow his own path to stardom, racking up multiple CCMA and CMA awards along with a Canadian Gold-certified album and CMA Global Artist Award (Nashville CMA). As creator and front man of the best-selling band in Canadian Country Music history, The Road Hammers, he took on the Country Rock genre and guided the band to unprecedented success throughout Canada and the United States, earning a Canadian Platinum-certified album, three CCMA Group of the Year award (2 years consecutively), and a JUNO Award. McCoy transferred his engaging stage presence into numerous hosting opportunities, from stepping in front of the camera as host of Smashtown (CMT Canada/USA), CMT's Pet Heroes (2010/2011), and Jason McCoy Eats America to his work with CMT on two hit seasons of The Road Hammers television series. In addition to a full touring schedule, McCoy is an award-winning morning host with Pure Country 106 in Orillia, ON, and host of the Nationally Syndicated weekly show Nothin' But The 90's.  Continuing to write and record music, McCoy prizes the time he spends with his wife and two children at their home farm, just two miles from the small town of Minesing where it all began.
"I've always been proud to be part of the Canadian country music community," says McCoy. "It means a lot to me to be able to receive this amazing recognition from my peers and the music industry who have always been so supportive of my creative endeavours. I'm truly humbled by this honour."
The CCMA has been honouring Canadian Artists and Builders who have made long-term contributions to the growth and development of Canadian country music since 1984. Inductees into the Canadian Country Music Hall of Fame (Hall of Fame) are selected annually by their Canadian peers in the industry. The Hall of Fame is managed by the CCMA Board of Directors' appointed Hall of Fame Management Committee (Management Committee). The Stan Klees Builder Award, was established in recognition of RPM Magazine co-founder, Mr. Stan Klees, and his pioneering efforts in creating the CCMA Awards Program.
Click Here For Canadian Country Music Hall of Fame® Social Assets
For the latest CCMA news, follow along on Facebook, Twitter, Instagram, and YouTube or visit www.ccma.org.
About the Canadian Country Music Hall of Fame® 
Since 1984, the Canadian Country Music Association® has been honouring Canadian artists and industry builders who have made long-term contributions to the growth and development of Canadian country music. In 1999, the CCMA formally merged its recognition program with a program of similar scope founded by Mr. Gary Buck, to create what today is known as the Canadian Country Music Hall of Fame™. The CCMA has partnerships with the Canadian Country Music Heritage Society (www.ccmhalloffame.com), based in Merritt, British Columbia, and the National Music Centre (www.nmc.ca), based in Calgary, Alberta to collaboratively promote and bring recognition to the Canadian Country Music Hall of Fame™ program.
About the Canadian Country Music Association® (CCMA®)
Established in 1976, the CCMA is a membership-based, not-for-profit organization committed to the promotion and recognition of Canadian country music. Built upon the foundation to educate, elevate, and celebrate Canadian talent, the CCMA progressively heralds the spirit, community, and creativity that country music fosters through year-round initiatives, culminating every fall with Country Music Week and the Canadian Country Music Association Awards. Sponsors of Country Music Week 2023 and the 2023 CCMA Awards Show presented by TD include FACTOR, Canada's Private Radio Broadcasters, and the Government of Canada through the Department of Canadian Heritage's "Canada Music Fund".
###
Media Contacts:
For the Canadian Country Music Association
Charlotte Thompson | [email protected] | 416.464.8220
For Brian Edwards
Brian Edwards | brian@rocklandsentertainment.com | 705.743.7354
For Jason McCoy
Samantha Pickard | samantha@strutentertainment.com | 416.786.9769